Press Enterprise Article – November 1, 2016
Pup Eases Loss of Therapy Dog
Golden retriever in training to fill gap at Bloom counseling center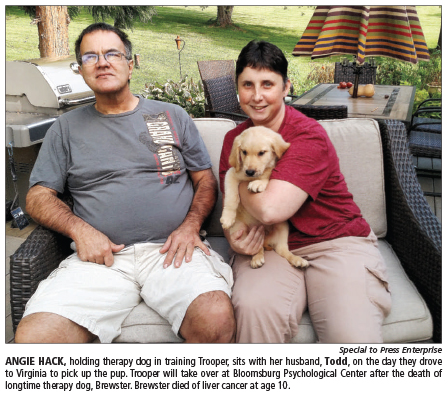 Download a PDF of the article >>
SCOTT TWP. — Dogs have proven to be almost as valuable as the professionals at the Bloomsburg Psychotherapy Center. When Angie Hack started going for help with her post-traumatic stress disorder, Brewster the resident golden retriever immediately put her at ease. That's why when Brewster died, Hack knew he would have to be replaced. Ronda Barto, co-owner of the center, got Brewster as a donation after losing her previous therapy dog, Maggie. Barto says dogs play a very important role at the center, making each patient feel welcome and secure.
Brewster would greet guests as they entered, spend time with them in the waiting room and even sit next to them during sessions. When Brewster succumbed to liver cancer at age 10, Barto says there was a missing warmth in the office, a palpable difference. Hack later learned of a golden retriever breeder, Mark Lenz from Virginia, and decided to reach out to him. Lenz had two litters of puppies that were soon to become available. He agreed to donate a puppy to the center, instead of charging his typical asking price of $700. Hack made arrangements to pick up the puppy, now affectionately known as Trooper.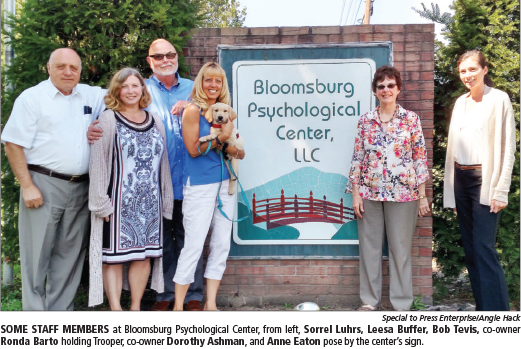 Trooper is going through the process of becoming a certified therapy dog, which cannot be completed until he turns 1. He will have to go through obedience class, as well as pass the canine good citizen test. "The purpose of the test," says Barto, "is to check the temperament of the dog." To pass, dogs must complete 10 assessments, including accepting a friendly stranger and coming when called. In the meantime, Barto and Hack have "shared custody" of Trooper. He spends half-days at the center to get his on-site training. While he's still learning to accept sudden movements and noises, he's already mastered another skill — making people happy."It's great to see all of their faces with a smile again," says Hack.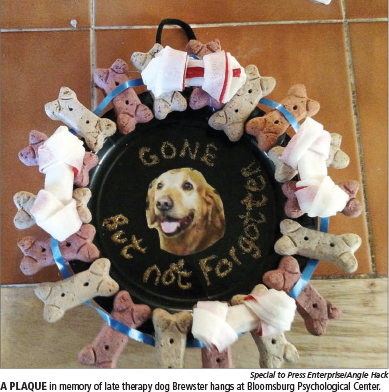 Our Therapy Dog Makes WNEP News
Brewster, our beloved therapy dog, after 10 years of caring for us and our clients, passed away at the end of August this year. His absence has left an emptiness in our hearts and our office.
However, before we could adjust to our loss, an unexpected gift of networking from one very caring woman and an act of generosity from one very caring breeder, brought us a precious gift, our new puppy, Trooper.
Trooper is working as hard as he can to grow up enough to begin his new life with BPC. We are hoping that sometime around the end of October, Trooper will be romping around our office, greeting clients and bringing a smile to everyone's face.
We know that Brewster is smiling down on all of us, happy to know that his good work will be carried on by a fellow golden retriever.
With special thanks to everyone who has helped bring healing to our hearts.
And look at Trooper now… 6 years old and an integral part of BPC's therapy…